TE ANAU CONTRACT BRIDGE CLUB (INC) 50TH ANNIVERSARY CELEBRATION 12TH OCTOBER 2019
The club will celebrate with a function to be held at the Te Anau Club, corner of Pop Andrew Drive and Jackson Street, Te Anau
Everyone will be welcome to a 'meet and greet' at 11.30am which will be followed by formalities, a two course lunch and entertainment.
For those so inclined, there will be the opportunity to finish the day with a game of Bridge.
Past members visiting Te Anau are invited to join the usual Friday bridge competition at the Te Anau Bowling Club, Luxmore Drive, Te Anau, commencing at 1.30pm.
Anyone wanting to register for the celebration please contact:
Marie Galland - President kinglear@xtra.co.nz , or phone 027 289 1251.
Club Profile
The Te Anau Bridge Club is located in the centre of Te Anau on State Highway 94.
In the late 1960's local bridge players wanted more than the rubber bridge played at home and decided to form a Bridge Club with Mrs Cit Excell duly elected the fledgling club's first president. Our current president is Marie Galland.
We became affiliated to the New Zealand Bridge Association in September 1970 and at the moment we have about 60 members.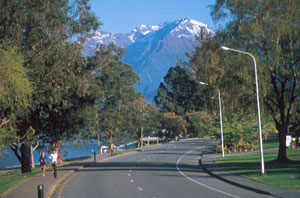 Where to find us
The club plays at the Te Anau Bowling Club on Luxmore Drive Te Anau.
Tel: 03 249 7369
Membership
Club membership subscription is $70 due by January 30th each year.
Subscriptions may be paid directly to the club bank account 02 0965 0035189 00
Contact us
Secretary: J Ciaffoni, ph 03 249 7290
PO Box 191
Te Anau 9600
Email: teanaubridgeclub@gmail.com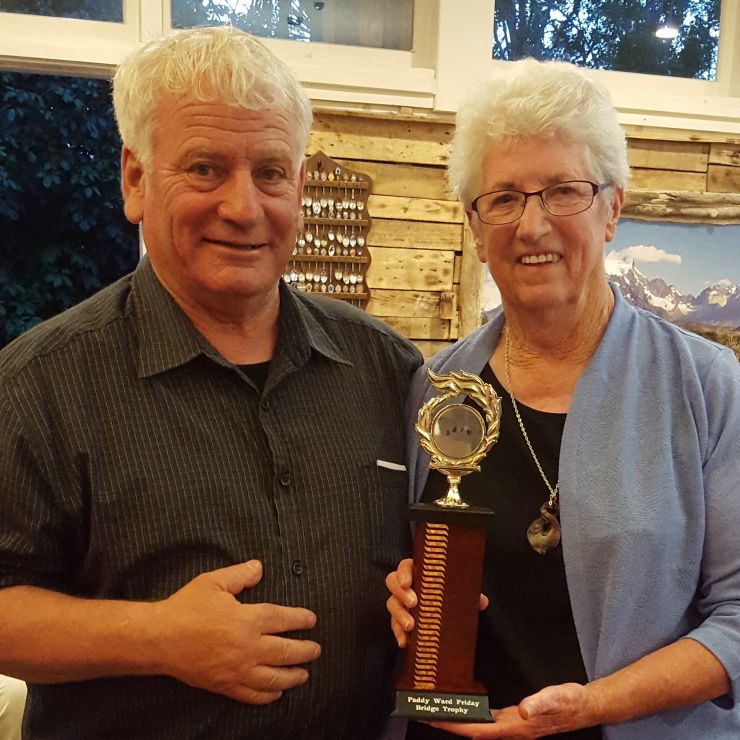 Paddy Ward presents Diana Burrows with the trophy he donated to the club for the winner of Friday Bridge. This was Paddy's parting gift to the club.
Annual Reports
PRESIDENTS REPORT 2018 - HEATHER DONALD
2018 year has run very smoothly. Wednesday and Friday sessions have been well supported generally.
Nesting Pairs seminars hosted by Jane Stearnes started in March, its primary aim is to increase enjoyment of the game by exciting the players into learning some new techniques. It was aimed primarily at intermediates. Five pairs took advantage.
We had a vote in April about starting times for Wednesday evening Bridge, starting 7pm all year, 7.30pm all year or 7pm for four months of the year. The result was the majority of the Club voted for 7pm starts May, June, July, August.
Our Tournament was held on the 19th May. Again very successful, and we have received very positive feed back from out of town players. A big thank you to Joan Cockburn head of catering also Linda Staunton, Janet Ciafoni and Margaret Henderson who worked very hard behind the scene, which really was a big part of making the Tournament a success. Thankyou also to those members who supplied food for morning tea and also supplied raffles.
We all must try and support other tournaments as we in return rely on out of town players to support our Tournament. It was very encouraging to see some of our 2017 learners play in other tournaments this last year.
In May Betty Dodds (LifeMember) passed away, she was such an asset to the Club over the years, she will be sadly missed.
I would like to thank Glenda Chalmers for reviewing our Annual Accounts Voluntary for the last 35 plus years but has now decided it is time to pass the duty on. We have been extremely lucky and very appreciative to have you do the review for us for so long. Thankyou.
I cannot thank enough Jill McChlery and Marg Cockburn who have continued to step up and organise the teaching also Dianne Burrows who has helped out this year. Thankyou.
Lessons started in June. We have four new learners, Sheryl Dennison, Neil Robertson, Chris Morrison and Andrew Taberner. Neil has come along to the Club and look forward to seeing Sheryl Chris and Andrew join us soon. It is so important to see these new players and we as a Club must make them very welcome. We have also welcomed Alan and Jan Jacobson who transferred from the Invercargill Club and Caryl Marshall who has become a Country member. We enjoy having you as part of our club.
It has been a privilege to serve as President for the past two years. Life made easy by the Directors and Convenors who step up and do what is expected. Thankyou.
To Jan Ludemann who has the knowledge to keep the Computer system running smoothly. As I keep saying Jan, we cannot do without you. Thankyou.
Last but not least. Thankyou to my Committee. A Club does not run well without a good Committee.
Thankyou to all members for making our Bridge Club friendly and enjoyable. GOOD BRIDGING
MINUTES OF THE 48TH AGM OF THE TE ANAU BRIDGE CLUB HELD AT THE CLUB ROOMS 31ST OCTOBER 2018 AT 6.30PM
Present: 25 members
Apologies: D Burrows, N McDonald, A Carran, J Cockburn, R McClean, R Cockburn. Moved to be accepted by D Fortune, Sec. G Stewart.
Minutes: of the previous AGM were read by J Ciaffoni. Moved by M Hughes and Sec. by M Cockburn.
Matters Arising: Members didn't see emails from previous AGM, it was decided the minutes will be uploaded to the website.
Presidents Report: Presented by H Donald, copy attached. Moved H Donald, Sec. B McCandless.
Treasurers Report and Balance Sheet: Presented by G Chalmers, copy attached moved for adoption by G Chalmers, Sec. Ruth Slee.
Change of Signatures: Moved Jan Ludemann and Seconded David
Fortune
Election of Officers:
President: Marie Galland
Vice President: Jill McChlery
Secretary: Janet Ciaffoni
Treasurer: Ruth Slee
Tournament Secretary: Marg Hughes
Competition Secretary: Linda Staunton
Computer Technician: Jan Ludemann
Past President: Heather Donald
Committee: Garth Stewart, Joan Cockburn, Norma McDonald, David Fortune.
The President welcomed new committee members, Janet Ciaffoni, David Fortune, Linda Staunton.The President also presented the outgoing president, Heather Donald with a bouquet of flowers in recognition of her work over the past two years.
General Business
Quotes for the Xmas party were discussed, 3 different options were presented. The members voted and it was decided unanimously the Club was the best option at $32 per head.
Also should we have a theme night?
Members reminded to return trophies to Linda Staunton.
Babbich Pairs: Friday 2nd November, 7.30 start. $6.00 per head which goes to NZ Bridge. A supper provided.
Subs: The subs to stay the same, table fees also.
BridgeMate: Gillian Alexander will come to the club 14th November, she will meet the committee members first at H Doanalds for an informal meal. Then play bridge that evening at the club.
Also talk to the bridge teachers Marg Cockburn and Jill McChlery, and Jan Ludemann.
Some advice and training to be given to Directors.
The club will pay for petrol.
Discussion regarding phone numbers to be but in Calendar of Events, a list to be circulated among members to provide their preferred contact details. Email addresses also to be updated.
List to go to Jan Ludemann.
B McCandless reminded committee Honours Board needs to be updates asap, take to Craig McMurtrie to be engraved.
Early starts: Members happy with the current early start in winter.
Convener of Championship pairs: M Hughes needs a helper, M.Galland to carry on and H Donald to assist.
Bridge Lessons at High School: Jo Mundie raised the issue of lessons at college, recommended that school be advised when lessons resume, if anyone interested it would be better if they attended lessons in their own time.
Glenda Chalmers was thanked by the President for all her work as treasurer and preparing the Balance sheet for many years.
The meeting closed at 7.12pm.