TE ANAU CONTRACT BRIDGE CLUB (INC) 50TH ANNIVERSARY CELEBRATION 12TH OCTOBER 2019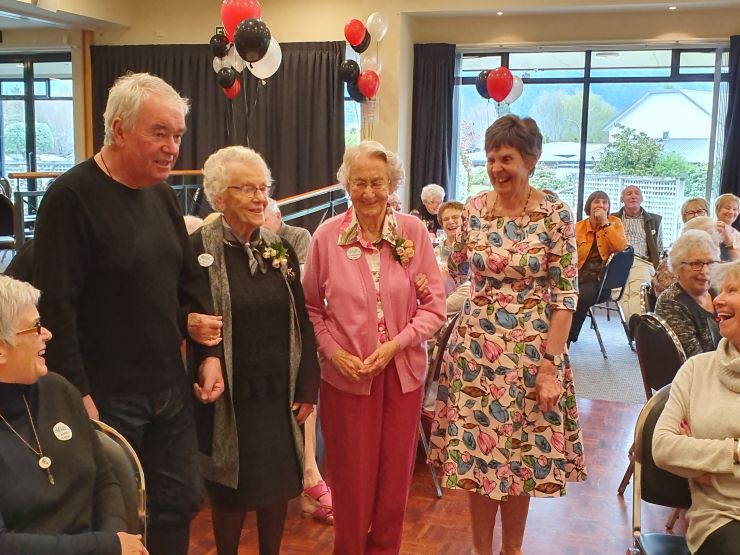 Olive Lady Hutchins and Mrs. Margaret Tiplady step up to cut the 50th Jubilee cake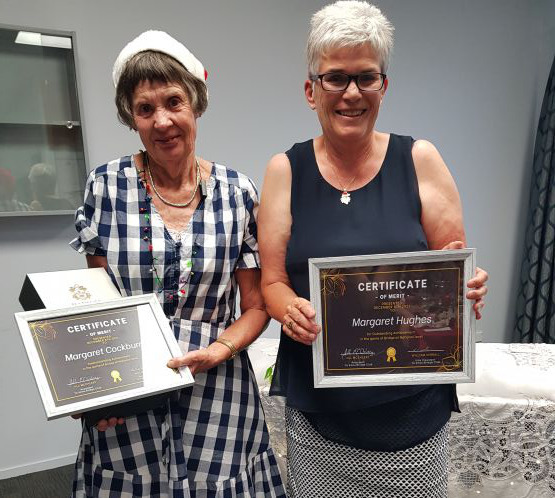 Margaret Cockburn and Margaret Hughes were awarded Certificates of Merit at the Te Anau Bridge Club 2021 prize giving for their bridge achievements at National level
Club Profile
The Te Anau Bridge Club is located in the centre of Te Anau on State Highway 94.
In the late 1960's local bridge players wanted more than the rubber bridge played at home and decided to form a Bridge Club with Mrs Cit Excell duly elected the fledgling club's first president. Our current president is Mrs Jill McChlery.
We became affiliated to the New Zealand Bridge Association in September 1970 and at the moment we have about 60 members.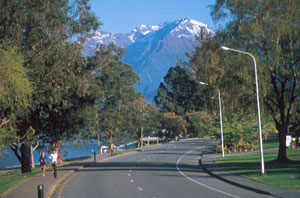 Where to find us
The club plays at the Te Anau Bowling Club on Luxmore Drive Te Anau.
Tel: 03 249 7369
Membership
Club membership subscription is $70 due by January 30th each year.
Subscriptions may be paid directly to the club bank account 02 0965 0035189 00
Contact us
Secretary: J Ciaffoni, ph 03 249 7290
PO Box 191
Te Anau 9600
Email: teanaubridgeclub@gmail.com
Annual Reports
President's Report for Te Anau Bridge Club's 51st AGM
Welcome to the 51st AGM of the Te Anau Bridge Club. This has been an exceptional, and memorable year, as last year, however for quite different reasons. Last year was extremely busy due to our 50th Jubilee, however this year was much quieter due to Covid 19. Our annual tournament was not held, although we had planned for it, and our bridge playing afternoons and evenings were cancelled from March 24th until June 17th.
Thanks go to all members whom have helped make it a successful year. Plus a special thanks to Jan for giving us the option and instructions during the Covid lockdown, to join Bridge Base Online. This was very successful, fun and good practise for us, allowing us to keep our hand in at this time.
Thank you again to Jill McChlery and Marg Cockburn for taking our annual lessons and lesson extension classes which continue to ensure that our club remains a healthy one with new members joining us and the upskilling of present learners. I would like to take this opportunity to welcome Lathee Verrall, Julie Bateman, Phil O'Sullivan, Trevor Lyall and Mike Parsisson as new members this year. It is great to see an increase in Club Membership and we hope you have many enjoyable years of bridge ahead of you.
We had a successful BBQ Xmas Party last year at the Bowling Club and it was a fun way of finishing for the year. Jill and the committee have further plans for the same this year.
Last year we reflected on ways to make new members feel more at home and included. We asked all members to leave at least three competition rounds free to enable the convenor to match newer members with more experienced members. This has been a shorter year, however, thank you to those who have put the health of our club first and done this, it is much appreciated. We were all learners once and being an ungraded club it provides a fairer and less stressful situation for newer members. Could convenors also remember that this is a priority when pairing players up, please?
Over the year I have identified jobs that are being carried out and with Jan's help I have constructed a job description list. It is humbling to see how many jobs there are to make the Club operate efficiently and I wish to thank all those who undertake these many tasks. I wish to particularly thank those in the club, Linda, Margaret, Shirl and Sherron and others who have taken on new roles over the year and those experienced members who have continued to provide their time and expertise to the club.
It has been decided by the committee to recommend our subs stay at $70 and our table fees at $5 during this coming year.
We look forward to NZ Pairs on Friday this week, our closing of Friday bridge the following Friday and our Xmas Party on the 9th of December.
Again thank you to all those who have been involved in the 'extra's' over the year. A special thanks to my committee, especially Ruth and Janet. It is pleasing to see that all these committee members, apart from our retiring Past President, are happy to re-stand for nomination again. I wish to thank Heather Donald for the many years she has put into the committee and her willingness to help and advise me when needed.
I have enjoyed my time as President, I feel we have a great club, a conscientious committee and Jill will be well supported by us all, as the incoming President.
May the Club have success and lots of fun in the coming year!
Minutes of The Te Anau Bridge Club's 50th AGM held at the Clubrooms on 28th October 2020
Present: 30 members as per attached sheet
Apologies:
S Dennison, S Chartres, J Mundie.
Moved: J Cockkburn Sec: N McDonald
Minutes of the previous meeting
Minutes circulated and taken as read.
Moved: B McCandless Sec: G Stewart
Matters arising from the minutes
The suggestions to make our Wednesday night bridge faster were implemented and have been successful. Having the tablets set up and handed out before play has been very good. Taking the contracts makeable off so people can't spend too much time looking has also helped. Having a Howell movement has also helped with play moving faster.
Presidents Report
Presented by M Galland, copy attached.
Marie gave H Donald a gift for her work as past president.
Moved: N McDonald Sec: M Cockburn
Treasures Report and Balance Sheet
Circulated and taken as read, copy attached.
Matters arising from Treasurers Report
The table fees and subs are to stay the same.
Moved: R Slee Sec: M Hughes
B McCandless questioned the cost of the Jubilee being in this year's balance sheet, it is correct, the lunch was held in our last financial year.
B McCandless also questioned as to why the committee has left subs and table fees the same. The clubs income is down due to Covid, and we did keep paying rent to the bowling club even though we weren't getting money from table fees.
As well, no income from our annual tournament was received due to its cancellation. We hope that when our rent is up for renewal the bowling club will look at our continued payments over the Covid period favourably.
Moved: R Slee Sec: J Ciaffoni
Election of Officers
Past President: M Galland
President: J McChlery
Vice President: B Verrall
Treasurer: R Slee
Secretary: J Ciaffoni
Competition/Tournament Secretary: L Staunton
Computer Manager: J Ludemann
Committee members:
G Stewart, N McDonald, J Cockburn, Sherron Tamatea Scown, (new nomination)
D Fortune.
M Galland then handed over the running of the meeting to the new President Jill McChlery. J McChlery thanked M Galland for all her hard work over the last 2 years.
General Business
Authorisation for electronic signatures to be updated at the bank is to be implemented, two people out of three will do this, and the three will be the President, Secretary and Treasurer.
Moved: M Hughes Sec: H Donald
Proposal to install a storage cupboard in the kitchen has been agreed to.
The committee will approach the bowling club for approval
Moved: M Cockburn Sec: M Galland
Proposal for a box to be purchased and fitted out for the storage of club members name tags. The members agree to the committee organising a suitable container for the nametags. R Slee reminded members to approach her for nametags.
Moved: J Ciaffoni Sec: M Hughes
It was suggested by J McChlery that the club carries on with Friday bridge for another 3 weeks after the 6th November so the learners can have some more game time to get them used to coming to Wednesday night bridge. It won't be competition, just social.
NZ wide pairs to be played on the 30th October, the cost is $10, the club will subsidize the table fees. A supper is to be provided by some club members.
There will be hopefully 6 tables. It was suggested there might be a couple of people prepared to come at short notice.
There being no further business the meeting closed at 7.25pm.