Club Profile
The Te Anau Bridge Club is located in the centre of Te Anau on State Highway 94.
In the late 1960's local bridge players wanted more than the rubber bridge played at home and decided to form a Bridge Club with Mrs Cit Excell duly elected the fledgling club's first president. Our current president is Heather Donald.
We became affiliated to the New Zealand Bridge Association in September 1970 and at the moment we have about 60 members.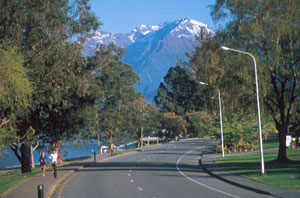 Where to find us
The club plays at the Te Anau Bowling Club on Luxmore Drive Te Anau.
Tel: 03 249 7369
Membership
Club membership subscription is $70 due by January 30th each year.
Subscriptions may be paid directly to the club bank account 02 0965 0035189 00
Contact us
Secretary: Norma McDonald 03 249 7725
PO Box 191
Te Anau 9600
Email: teanaubridgeclub@gmail.com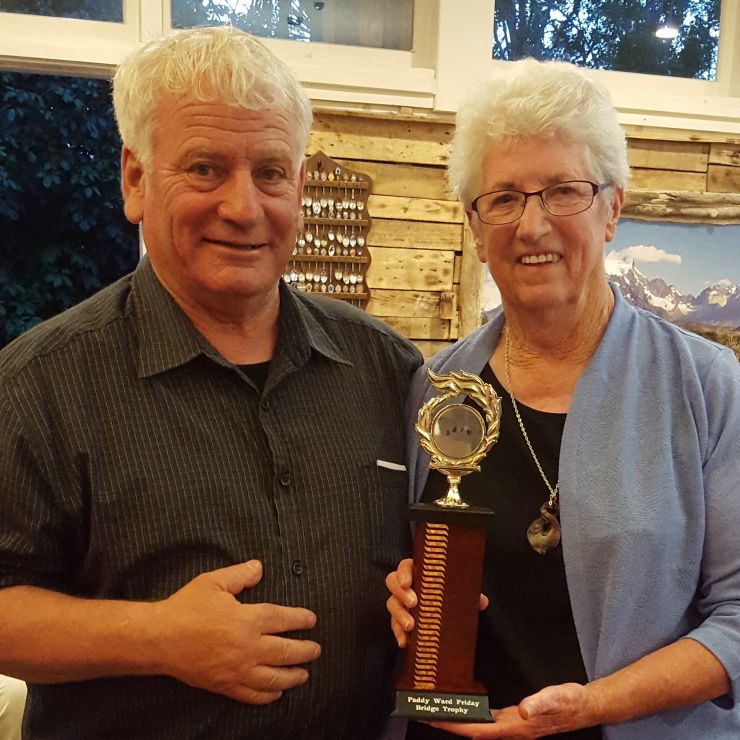 Paddy Ward presents Diana Burrows with the trophy he donated to the club for the winner of Friday Bridge. This was Paddy's parting gift to the club.
Annual Reports
PRESIDENT'S REPORT 2017 - HEATHER DONALD
2017 has been an exciting year with nine new members joining us. Alan Ballinger, Sue Chartres, Janet Ciaffoni, Margaret Henderson, Colin Houghton, Kathy Singleton, Tim Smith, Linda Staunton and Sharon Tamatea Scown. Thankyou for joining our Club, you are all progressing so well. May you have many enjoyable years as part of the Club. We would not have our new players if it was not for Jill McChlery, Margaret Cockburn and Margaret Hughes giving up there time to teach. A very big thank you.
Wednesday Night and Friday afternoon sessions continue to be well supported.
Sadly one of our members past away during the year Roger McQuillan, who is very much missed
in our Club.
We also have to say goodbye to Paddy Ward who has belonged to our Club for many years. He is shifting to Masterton in a few weeks, we will miss you Paddy.
Our Tournament in May started out good with 36 pairs entered, but on the morning of the Tournament the situation changed, the ground was white and the phone started ringing. Sixteen players could not make it due to road conditions. We continued on and ended up being a great Tournament with very positive feedback. Many thanks to the non playing volunteers, who quietly worked behind the scenes to make our Tournament successful and also members who provided the raffle prizes, set up the room before, and cleaned up the room after. As from the 1st of July, we have restarted paying the Bowling Club rent of $5000 plus GST per annum. If our Club continues to grow Club finances will stay healthy. With this in mind your committee has decided to maintain the current Subscriptions at $70.00 and Table Fees $5.00.
We have purchased new Electronic Score Tablets recently. Change over has not run smoothly, we are so fortunate to have Jan Ludemann, she calmly sorts any problem. Thankyou Jan, we cannot do without you.
Convenors I would like to thank you, it is not always easy, but the competitions run smoothly with your good work. Also Directors thank you for taking charge on the night. Glenda Chalmers thank you for reviewing our accounts.
Thankyou to Rex Cockburn our Handyman, just ask him to do something and it gets done straight away.
Last but not least, Thankyou to my Committee and to all members for making this a friendly and enjoyable Bridge Club.
GOOD BRIDGING
Minutes of the 47th AGM of the Te Anau Bridge Club held at the Clubrooms 24th October, 2017 at 6.30 p.m.
Present: 23 members as per attached list.
Apologies: D. Fortune, S. Chartres, C. Houghton, R. McClean, L. Brown, B.McCandless, & J Mundie, A. Youldon. Moved to be accepted by G. Stewart, Sec. M. Galland.
Minutes: of the previous AGM were read and confirmed by N. McDonald, Sec P. Denny.
Matters Arising: College – emails were sent to the school, but not enough time allocated by them to complete lessons.
Presidents Report: Presented by H. Donald, copy attached. Moved H. Donald, sec M. Cockburn.
Treasurers Report and Balance Sheet; presented by G. Chalmers, Moved for adoption by L. Cameron, Sec. J. Ludeman.
Election of Officers:
President: H. Donald - M Cockburn/N. Adam
Vice President: M. Galland – M. Cockburn/N . Taylor
Secretary: N. McDonald – M. Cockburn/N. Taylor
Treasurer: L. Cameron – N. Adam/M. Cockburn
Tournament Secretary; M. Hughes – J.Birmingham;M.Cockburn
Competition Secretary; A. Carran – M.Cockburn/J.Birmingham
Administration/Computor; J. Ludeman – J. BirminghamM. Cockburn
Committee: Nominator/Seconder
J. McChlery - M. Cockburn/J.Birmingham
J. Cockburn - J.Birmingham/N. Adam
R Slee - J.Birmingham/ N. Adam
G. Stewart – J.Birmingham/ N. Adam
The President welcomed new Committee member, R. Slee.
General Business
Earlier Starts in winter discussed – suggested that we try for only two months – June/ July. After discussion it was agreed that a questionnaire be sent around nearer the start of winter to find members preferences and that the majority would rule.
7.30 starts – need to be ready to play on time and that play needs to be faster – no post-mortems after each hand, - encourage slower players to speed up, less talking, and stop looking back on score tablets to see what bidding should have been – this can be altered on tablets so cannot be seen. Each board to be limited to 6 minutes playing time.
Christmas Party: 6th December – Keplers Restaurant, $40.00 per head. Approx. 2 weeks beforehand the menu will be circulated, and members to indicate their preference, in order to help Keplers preparations.
A suggestion from the floor was that minutes of Committee meetings should be circulated to all members either on the club website, for by email. After discussion decided that minutes will be circulated via email to all members.
Rent: We are now paying rent to the Bowling Club as per lease agreement – the lease is perpetual, with a rent revue 2 yearly – at present rent $5000.00 plus GST until 2019. – rent covers all Wednesdays and Fridays from April till November, and other occasions if approved by the Bowling Club.
Friday Bridge: Last meeting Friday 10th November – no fees payable that day.
Babbich Pairs: $6.00 per head, which goes to Bridge NZ, no other table fees will be charged.
All trophies to be returned for engraving, prior to the Christmas Party.
There being no further business the meeting closed at 7.05 p.m.